The popularity of metal cladding and facades is on the increase, and there's no surprises why. The design appeals to architects, builders and renovators alike due to the range of textures, colours, styles and finishes available. The flexibility of the material, as well as the modern, contemporary look makes for an eye-catching facade solution.
ARBS supplies a range of architectural cladding systems including Standing Seam, Interlocking Panels, Flatlock/Shingles, Metal Weatherboards, Snaplock/ Astroseam, Nailstrip. Ensuring that the correct fit and quality of system is imperative to ensure the cladding chosen will stand the test of time. The custom-made flashings manufactured directly in our Ballina factory ensure there are no compatibility issues or weather tightness.
With our modern computerized, cutting edge equipment from SWI Engineering all metal components are fabricated down to the millimetre eliminating incorrect dimensions and guesswork.
The importance of Metal Flashings
No matter what your cladding design, metal flashings play an important part. They are extremely important when it comes to the overall look and appearance of the building. They need to be designed to be weather resistance for the wall or roof cladding, without the use of any sealants or other weather resistant materials.
A range of metal flashings can be used for walls and roofing solutions to suit Zinc, Copper, Aluminium, Colorbond®, Unicote and Timber.
For example, copper's high resistance to harsh environments, strength and extended life span, makes it an excellent material for flashings. This means a roof is able to be built without weak points.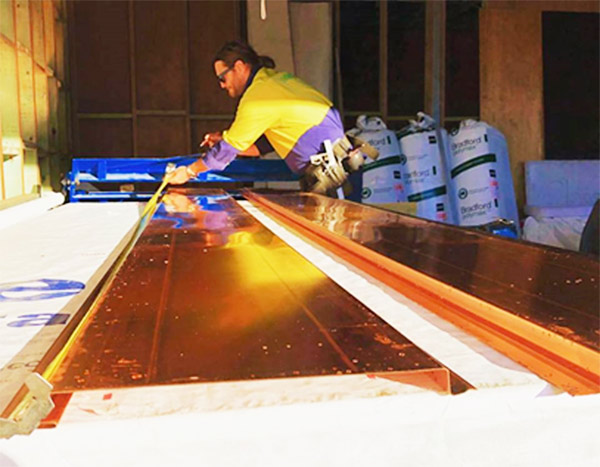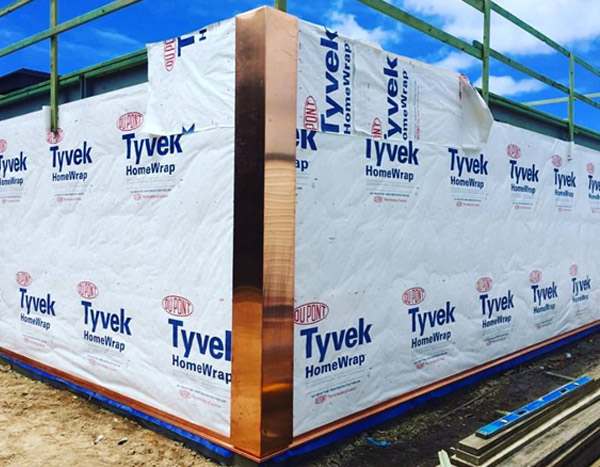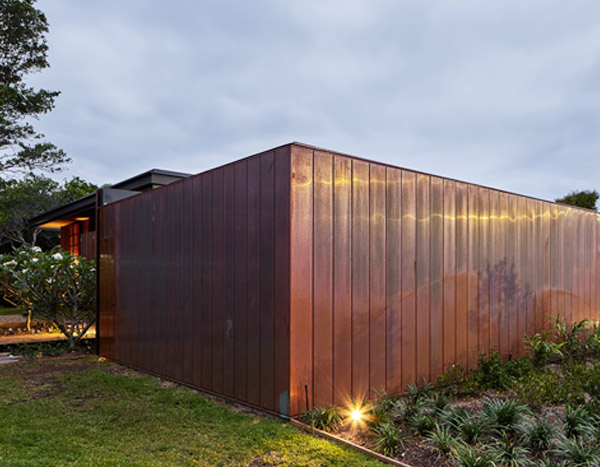 ARBS Copper Cladding & Flashing Project for Atlanta Building
Byron Bay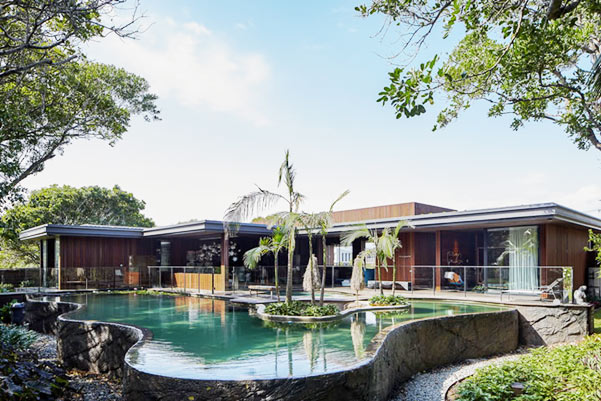 It's important to remember that flashings, accessories and ridge caps should be made from the same material as the walls or roof. Some material can be damaging to the coated steel products from both contact and or runoff. Materials including certain metals, treated timbers and chemicals can be accustom to condensation on the inside of surfaces on particular buildings. 
For optimum results on your next flashings project, we recommend:
Ensure that coated steel products are compatible with supporting members – or suitably coated.
Ensure there is no discharge of rainwater from materials that are not compatible onto coated steel products.
Do not allow incompatible materials in contact with coated steel products.
Architectural Roofing + Building Supplies provides quality finishes, technical support, daily pickup and delivery, and fast turnaround.
Talk to us today about your next Flashing project.
We service Ballina, Lennox Head, Byron Bay, Tweed Heads and surrounding regions of the Northern Rivers.