The COLORBOND® steel range of wall cladding and roof products has outstanding anti-corrosive properties that can withstand the harsh Australian elements. A product that offers a diverse range of design options and has been tried and tested for over 50 years.
Whether it be an external or internal feature to a project, COLORBOND® steel offers a long lasting, durable, stylish roof and cladding solution that requires little maintenance.
The COLORBOND® steel coating technology is what offers an outstanding performance, with resistance to chipping, cracking and blistering. A perfect match for Australian conditions and ensures a finish that will retain its look for longer.
COLORBOND® Steel Benefits
Manufactured to Australian Standards (AS 1397 and AS /NZS 27) and tested in Australian conditions.
Non-combustible, termite resistant properties and excellent weather proof capabilities.
Offers a large range of exclusive colours and special finishes within the steel collection, including contemporary, classic, metallic, matte palettes and COLORBOND® Ultra (for coastal applications).
Features solar reflectance technology- Thermatech® in the standard COLORBOND® steel.
COLORBOND® Colour Chart
Available in Contemporary, Standard and Matt Colours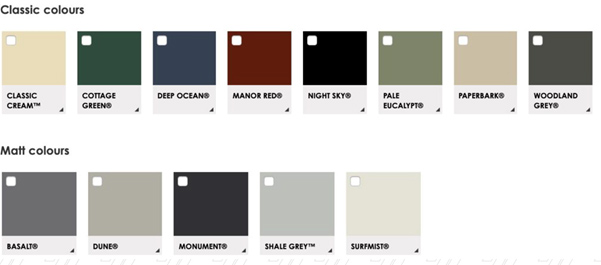 COLORBOND® Support Information